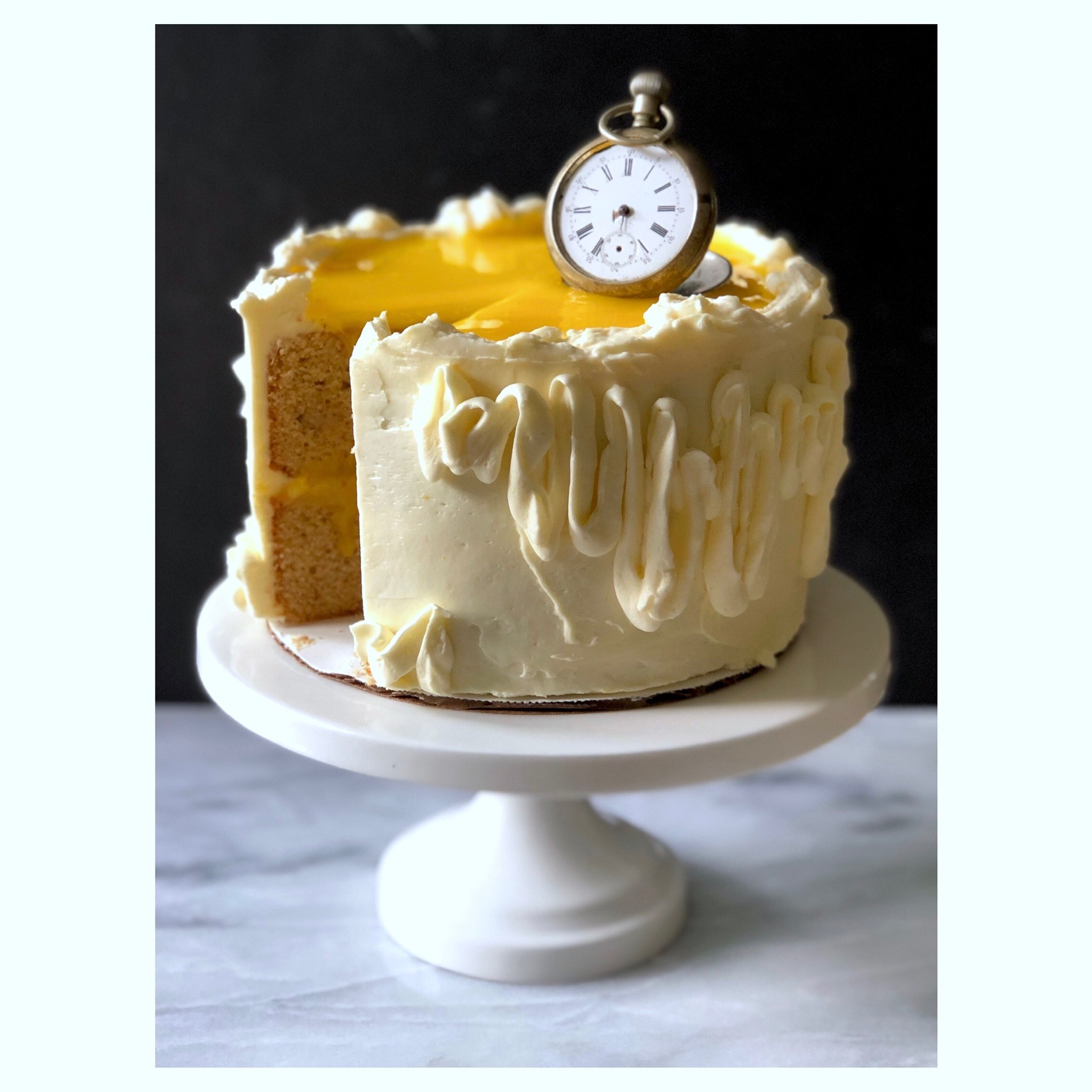 Self-Portrait in Cake no 10, Perimenopause
Coffee Walnut Cake with Lemon Curd and Lemon Buttercream.
Lemon Curd: Mood swings, both tart and sweet.
Coffee: Wake me up before you go, go.
Lemon & Coffee: I guess the combo is some sort of weight loss thing? And god knows us perimenopausal ladies need to keep that important info in our back pocket!
Ground Walnuts: Represents fertility and clarity in magical thinking. The ground part is important here.
Irregular Ruffles: Irregular everything.
Broken Clock: Kind of obvious.
This Applesauce Spice Cake with Browned Butter Buttercream was baked with healing in mind and donated for a Depressed Cake Shop pop-up. Cake, in general, is a symbol of happiness. Both the apples and the cinnamon baked into the cake correspond to healing in magical thinking. The grey frosting (a @depressedcakeshop standard) represents depression, the coral and green the flower of the healing aloe plant.
Inspired by the book of the same name by Emily Winfield Martin. Cake key: Nods to the main characters come from the faintly vanilla layers—one white and one red —and the red buttercream roses and white nonpareils. The frosting is a Honey Buttercream tinted violet in reference to two cakes mentioned in the book. The meringue mushrooms are a nod to another character, Ivo. It's a lovely book, beautifully illustrated, calming on the brain-palate, and rather fun to cake. PS: my first-ever buttercream roses and meringue mushrooms!
Self-Portrait in Cake no. 9: Food As Medicine
Capsules filled with Chocolate Cake or Funfetti Buttercream.
Cream Cheese Pound Cake with Pickled Fruit and Whipped Cream
I've been experimenting with Fruit Shrubs this summer as a way to cut back on wine. In the past, I've discarded the fruit without much thought but this time I nibbled a bit and, blown away by the lovely, sharp-sweetness, knew immediately that I wanted to try it on a cake. Pound Cake clicked, but a typical butter-only version didn't seem right. I ended up going with Joy the Baker's sublime Cream Cheese Pound Cake which I think pairs perfectly. That said, I'll admit the pickled fruit makes it a weird one, definitely not for every palate, but HERE's the recipe should you care to try it!
Chocolate Cake with Ermine Frosting, it's Inspired by the book of the same name, Tea and Cake with Demons: A Buddhist Guide to Feeling Worthy. When I set out to decorate I imagined something simple but that's not quite what happened. Enter my nearly 7-year-old daughter who, after digging through my decorating bin and art directing from color onward, is really responsible for this gem.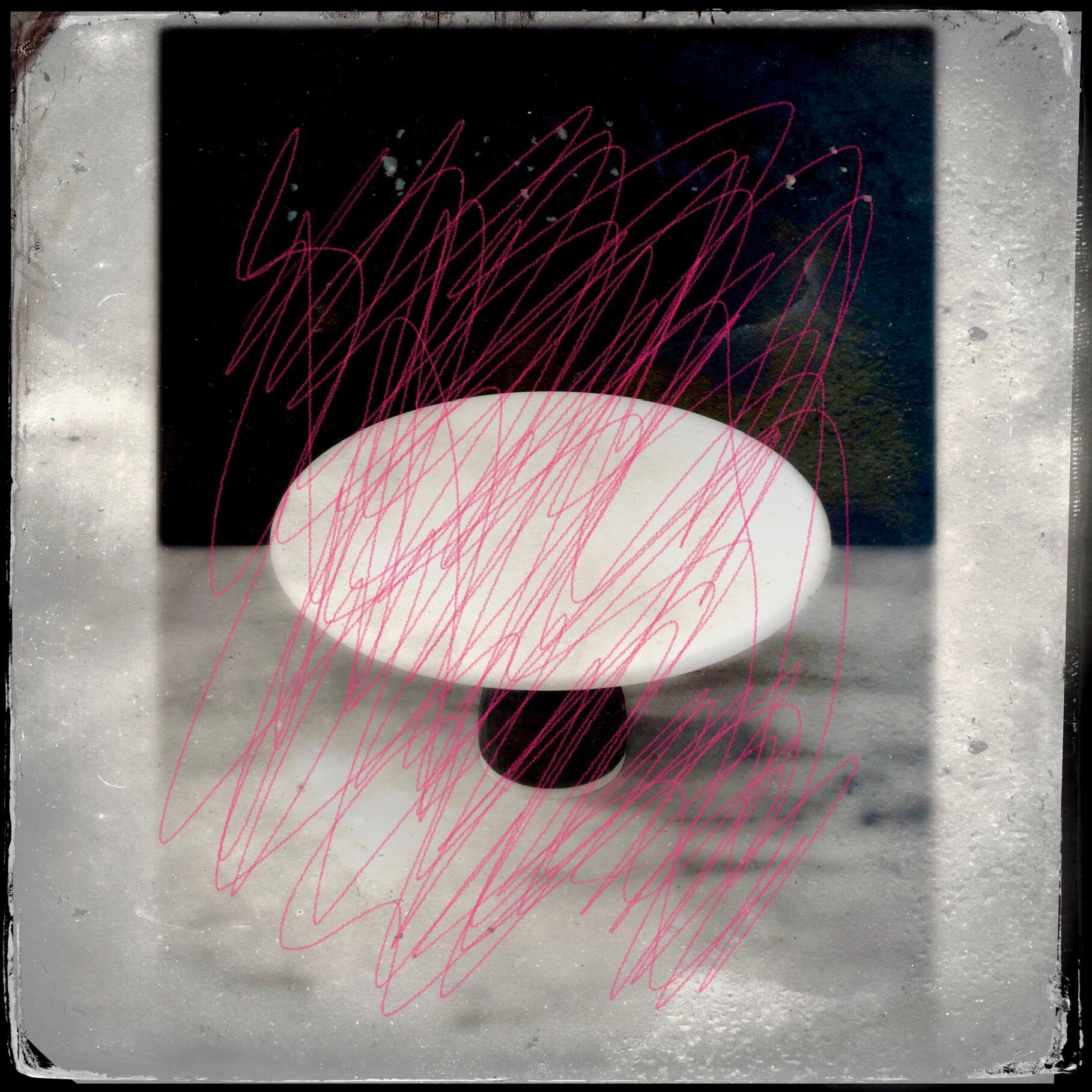 Self-Portrait in (not) Cake no. 8: I Am (temporarily) Out of Ideas
Self-Portrait in Cake no. 7: I am Fing Jealous of Your Success (but I still love you)
Chocolate Cake with Strawberry Black Pepper Jam and Basil Buttercream. Correspondence-wise, Black Pepper represents jealousy while the strawberry and basil represent wealth and prosperity.
Self-Portrait in Cake no. 6: Too Many Self-Help Books
A Vanilla Cake with Vanilla Buttercream slowly being pressed to death under the weight of all this overwhelming, frankly somewhat unhelpful, advice.
Self-Portrait in Cake no. 5: Keep It Together
Chocolate Cake with Swiss Meringue Buttercream and Sprinkles.
Self-Portrait in Cake no. 4: I am Easily Lost
Coconut Cake with Coconut Buttercream
Self-Portrait in Cake no.3: This is My Brain on Anxiety
This is a Lemon Cake with Lemon Curd Filling and Lemon Boiled Milk Frosting. The design of the cake is meant to express how I feel when anxiety takes hold. I often describe it as though my thoughts are like butterflies which have escaped and my net is lost.
Bergamot & Thyme Olive Oil Cake
Infused with intention of inviting success (bergamot) and courage (thyme) into my life using the magical correspondences of each ingredient.
I went to my books of magic and correspondence and meaning and symbol. Sometimes I need to look further than my cookbook shelf to bake what I need. This recipe has Chocolate for healing and positive energy. Maple sugar for the latter too; black pepper and clove for dispelling negativity; cinnamon for focus; coffee for clarity; walnut for wishes; yogurt to ease depression; baking powder for extra magic. The flower stenciled out on top is a snow drop which, in the Victorian Language of Flowers, symbolizes hope.
Black Cocoa Mayonnaise Cake with (Activated) Charcoal Buttercream. Inspired by Black Holes, @anish.kapoor, and some pretty heavy mental business that I don't even begin to know how to talk about (though know I am okay). Both Black Holes and Activated Charcoal absorb absorb absorb. The mayonnaise is the opposite, all slippery fat and moisture. So I guess this cake is what I can not yet put into words, these opposing forces working within me, my faith that gravity is stronger on my end, and the comfort I take in absolute blackness.
Lottery Cake created on June 27th, the day the events in the short story by Shirley Jackson take place. I baked up two layers of dark chocolate beet cake which I filled with red raspberry jam and frosted in the blue of a "clear and sunny" day, surrounded with "flowers...blossoming profusely" and set upon "grass ... richly green." And then I stoned it. The "blood" stained slip of paper sealing its fate lay at the bottom right.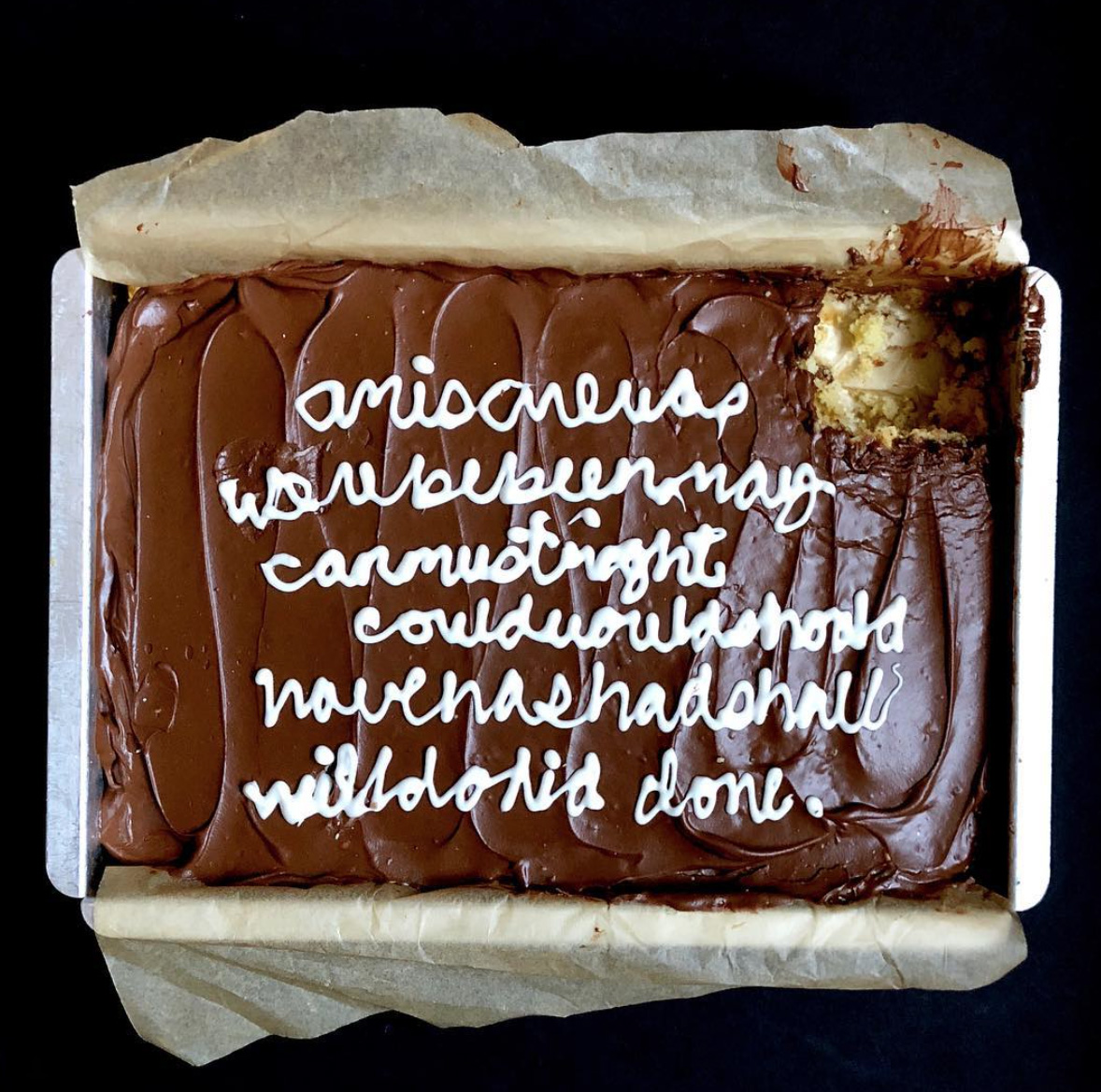 Self-Portrait in Cake n. 2
In the seventh (eighth?) grade, a teacher made us memorize the helping verbs, something I have never forgotten. To this day, when I feel a panic attack coming on, I recite them over and over in my mind. For #worldmentalhealthday2018, I decided to bake up an homage to that string of word pearls I carry with me wherever I go. The cake is actually a boxed yellow mix with Hershey's Cocoa back-of-the-can frosting as that's what I considered great cake to be at 12 (and still kinda do). My royal icing wasn't quite the right consistency so it's a bit tough to read. That I wrote is as it plays out in my mind doesn't help either: am is was were would be been may can must might could would should have has had will do did done.
Self-Portrait in Cake n. 1
Goth-dark chocolate cake flavored with too much coffee (you know better) and frosted in Bavarian Cream, the filling of choice for every birthday party cake of my childhood. On top is an opinionated, bittersweet ganache hastily applied without forethought, a partially-dried red rose for complicated love, and some dried calendula flowers for bright and optimistic thoughts. Yet the end result is incomplete due to the missing half-slice.
This is My Brain on a Good Day
Two layers of Black Cocoa Cake filled and frosted with Raspberry American Buttercream and decorated to match how I was feeling that particular day, a bit dark, a bit bright, a bit shiny, a bit creatively chaotic.
Sick of my own bulls$@t, I decided to bake all of my anxiety and fears and frustration into a really terrible cake. And then destroy it. It's got soggy cereal, a rotten tomato, hot sauce, a cold egg and flour, and too much baking soda, black pepper, and sugar. Topped it off with cheesecloth embroidered with the word ANXIETY, then soaked with terrible-smelling bitters. The intention was to set it all on fire, but the 🔥 didn't catch, so I just smashed the hell out of it.
A Book as Cake created for Paula Hawkins in celebration of the release of her second novel, Into the Water. See image below for the key.
A Ylang-Ylang-scented layer and an orange layer filled with Creme Patisserie. Frosted with Swiss Meringue Buttercream and topped with spun sugar. Created to interpret Lauren Groff's novel and served at her book launch party.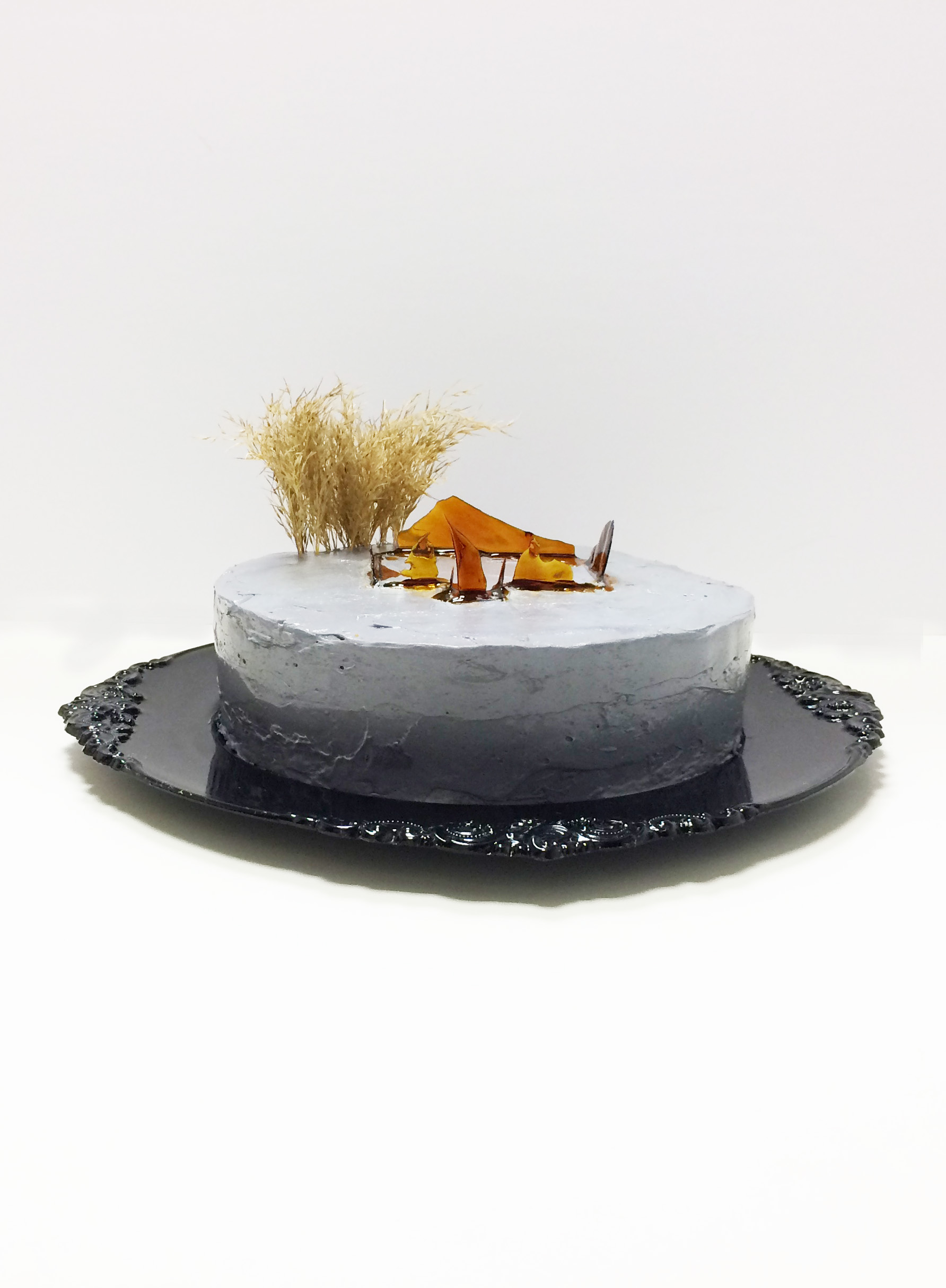 Jane Eyre by Charlotte Brontë
Two layers of Bergamot Vanilla Cake filled and frosted with Swiss Meringue Buttercream the grey of British skies. I removed the center of the cake, crushed it up, then pressed it back in, a nod to "hidden madness." On top are a few reeds reminiscent of the landscape in the book and a house burnt sugar to represent the burning of Thornfield Hall.
A mixed-media piece of hand-embroidery on a linen napkin and two layers of White Cake with White Swiss Meringue Buttercream. The rest is up to viewer interpretation.